Today at Social Media Marketing World 2015 where I am spending Spring Break with 25 of my Chapman University students as volunteers, Joe Pulizzi of the Content Marketing Institute launched his brand new keynote presentation on content marketing here are some highlights. First, he stressed that he was continually amazed over the fact that the majority of companies are still not having a content marketing strategy in place. Amazing to him as it is both effective and not that difficult to do. So, if you want to get started, he suggested the following six-step process: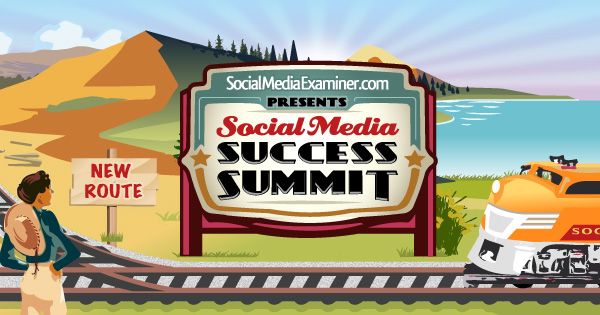 Sweet Spot. How can you find the right balance between what you are good at and what the market needs. You can niche down really small like a guy who has a big following for his radio show on backyard poultry! What was encouraging to me as a social media professor is that he really emphasized the need for you to also have a passion for teaching. You need to demonstrate your expertise to your community.
Content Tilt. While finding your sweet spot in step 1 is necessary, it is not sufficient as you still need to provide a story with a twist to motivate people to follow you and not someone else's content on the same topic. For example, nobody would care if you release one of ten million SEO ebooks unless you provide some compelling reason for reading yours. One way of doing that is to connect your story to something that is new or current and in this regard, he finds that Google Trends is a very underutilized tool. In the end, you should define your content marketing strategy with the following three elements: (1) core target audience; (2) what will be delivered; and, (3) the outcome for the audience.

Niklas Myhr, Joe Pulizzi, Larry Benet, and Wes Schaeffer before Joe's talk

Building the Base. Once you have defined your content marketing strategy, you essentially should embark on the age-old process of publishing. Here, Joe Pulizzi really stressed the need to be focused at first. Specifically, he suggested that you start with only one content type on one main platform on which you consitently deliver high quality.

Harvesting the audience. The key here is to not only provide valuable content but also to harvest the audience by getting them to subscribe to your email list. You should focus on number of new subscribers as a key metric and he was critical of Starbuck's major investment in building communities on Facebook, etc, as these communities are outside of your direct control. To build your base, he also shared how Content Marketing Institute systematically built their following by identifying and leveraging relationships with influencers in their field and how they gradually got them to begin sharing the content of Content Marketing Institute.
Diversification. Again, Joe Pulizzi doesn't believe that you should start out on too many platforms and media types at once but once you have acheived some traction, he believes that you should consider complementary avenues to add value to your audience whether it would be through more online platforms, books, or in-person events, etc. Joe Pulizzi predicted that we will see a lot of mergers and acquisitions as some are good at building an audience while others are better at monetizing content. For example, HubSpot just bought Agency Post.
Monetization. Patience is needed and Joe Pulizzi has seen that some of the most successful content marketers don't even try to monetize in any way until they have built a really strong and loyal following which could take a couple of years to achieve. However, once you have a community developed, then you will likely find multiple ways in which you can serve your customer base with products and services you didn't even anticipate upfront but have discovered along the way as you got to know your community better.
In conclusion, Joe Pulizzi suggests you create a content marketing plan and focus everything on building a loyal audience. Also, you really have to find out where you have a special story to tell in order to break through the clutter of numerous offerings available from others. So, good luck with your content marketing strategies!
Please see below for the full slide set of Joe Pulizzi's presentation.
Disclosure: Some of the links on this website are so-called "affiliate links" but please note that I only recommend products or services that I either use to satisfaction personally or am confident will add value to my readers based on endorsements by people I trust.